"You should travel!"
It's summer 2021, and I had taken a 3-month leave of absence from my job. With warm weather and the idea of a few months of "free time," travel was the most common suggestion from people around me on how I should spend my time.
The idea of a few months without any professional obligations leads us to dream about the exotic adventures we'd take. Heck, it seems if we are fortunate to be able to travel and don't go on an Eat, Pray, Love adventure, or spend time Under the Tuscan Sun, we're doing time away from our jobs all wrong. It's a well meaning comment.
However, I was under less grandiose and much more mundane plans. My leave wasn't a time for radical adventure, but rather a time to re-focus on fundamental priorities, particularly after the tumultuous 2020 everyone faced with not only a global pandemic, but also the social, political, and economic unrest we went through in America.
I prioritized areas I felt were not only overlooked in 2020, but also I felt would benefit me most in the near and long term. Broadly, the categories were: people, physical well-being, mental well-being, and curiosities. I did do some travel, but it came as a wonderful side-effect of spending time with people, rather than for travel's sake.
My leave was overwhelmingly filled with routine days in Seattle. On auto-pilot, I'd spend mornings at home and afternoons tucked into a conference room at a deserted office building 1.
"Did you figure out what's next for you?"
Perhaps it was the way I had explained my leave to those around me, but it seemed people half-expected me to emerge from my leave with new career lined up. Or at least targets of where my resume would go.
It seems that as smart, educated, and experienced professionals, we should have conviction in our career identity and path at all times. To indicate anything less robs us of our precious professional identity, and displays dreaded lack of direction and clarity. And more importantly.. what is Mom and Dad supposed to be proud of??
I think it's perilous to think we must know and pursue our singular, optimal path. This thinking adds pressure to make the "right" career decision. Rather, I view career direction as an intentionally explored path, where we follow curiosities and try things. Each experience providing signals of where to continue moving.
Instead of careful deliberation and going all in, we probe and learn as we go along. It is through a push outside of our usual that we may uncover areas that resonate deeper within us.
The outcome of my leave wouldn't be an epiphany on my career identity, but rather a direction to move towards. To get an idea of where I'd want to move directionally, I looked at my past roles for what stood out to me. I combined this with observation on how I was spending my time while on leave, where I intentionally prioritized time to interests.
Mine the past
Over the arc our careers, it's likely that we'll have worked across several roles and companies. When I looked back at my various roles, what struck me was that over the span of say 4 years at a company, only a handful of events stuck out in my memory. The rest of time seems to have been a mishmash blur of meetings, emails, PowerPoints, and time spent on airplanes and in hotels, lusting after the next level of airline status to achieve.
Of the memories and events that stuck out, I looked at what they were and why they stuck out. What did I enjoy (or not enjoy), and why? Events such as large product launches or large customer deals were landmark events for me. The satisfaction of accomplishing something significant, particularly the hard work towards a goal, was rewarding. However, I also realized that while I enjoyed the satisfaction of accomplishing something significant, I now care more about meaningful accomplishment.
I also found that while my time doing a start-up was the shortest phase in my career, it contained some of the most rewarding and memorable experiences. I enjoyed exploring something new that resonated with me, and the learning that came with it. We didn't know how things would turn out, but we tried things in earnest and came out a lot wiser (and a lot more humble). Personal growth was highly rewarding to me.
Observe the present
While on leave, I was unpaid. The thought of the money I was forgoing (and spending) every day served as a strong motivator for me to not squander the time I had. This led me to focus on the most rewarding activities that also aligned with my priorities. Given the broad categories for my priorities, I had a lot of options to choose from.
Should I read up on crypto?
Make bets on the future of e-commerce?
Write more?
Try to be a Twitch livestreamer?? 2
I started with an list of daily and weekly activities, and I observed where my attention turned, where I got the most energy from, and what felt most rewarding. I also looked at activities that I didn't look forward to nor found enjoyable during the activity, but were highly rewarding afterwards (eg. writing, sadly, is not an enjoyable process for me.. yet). Finally, I poked around areas that could've been latent curiosities, areas I thought could be interests, but didn't pay attention to. 3
The most telling observation was I continued to spend a third of my time on a volunteer side project I had started internally at Amazon. The program, which is run through the Asians@Amazon affinity group, is a series of professional and personal skill building workshops and events, centered around the idea of members helping members within small groups (we called it the Asians@Amazon M2M series 4). Through this experience, I learned of two areas I find intrinsically motivating and rewarding:
Teamwork towards meaningful purpose – I enjoy working with people to deliver something impactful that we believe in.
Be a positive force to people – I enjoy being a positive force to others, either through direct collaboration or through the work we do.
From a domain perspective, I found I was most drawn to the area of learning and development. My reading choices and energy towards the M2M program were clear signals of this.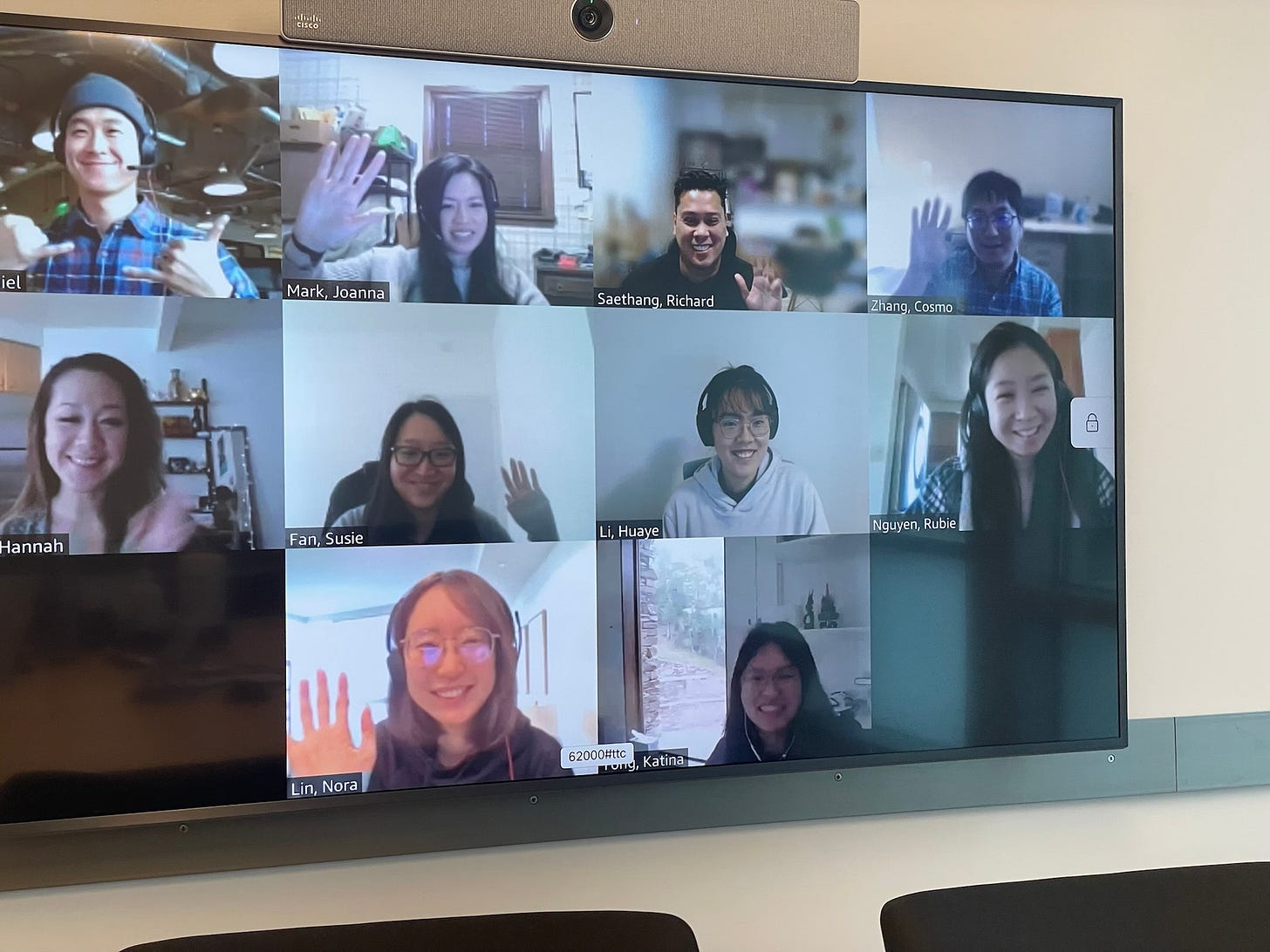 Lean into the signals
As my leave ended, I was faced with the reality of returning to work at Amazon, or quitting. I took the signals from my observations as indicators of where I should lean into. After much discussion and deliberation, I decided I'd explore paths outside of Amazon. 5
My next steps are to continue my exploration, but with a few guiding thoughts. What would push my growth? What would enable me to help others grow? How can I make significant positive impact to people? The answers entails a mix of talking to people, trying stuff, and reading up on ideas, industries, and companies that resonate.
"Passion for your work is a little bit of discovery, followed by a lot of development, and then a lifetime of deepening." Angela Duckworth, Grit.
So the conclusion after my leave, was to.. continue exploring. Albeit with more direction.
Similar to explaining why I went on leave, I have similar difficulty in articulating my next steps. There is still an expectation of a concrete role I'm targeting. We feel we're to be on a clear ladder of career progress, whatever that may be.
Half of the people I talk to think I'm lost and in career suicide, and the other half think I'm courageous and in career growth.
Since my prior post, I've spoken to a few people who've reached out with questions or similar thoughts. 6 Career paths aren't straightforward, and it's particularly hard to navigate when we're led to believe they should be straightforward. The one question I kept going back to during discussions was,
"What are you optimizing for in life and career?"
It's a personal question with any number of answers. I know many won't have the luxury to explore full time what the answers are, but I think much of the answers lie in our actions and feelings already. We just have to examine ourselves a bit closer. An important step is to just think about possible answers. Whatever the answer may be, and assuming we believe in it deep down, we should pull our full efforts into it.
Because, a meaningful life is what we're all capable of and should seek to experience. Particularly as the years zoom by.
Or in other words, YOLO.
**Postscript: This post was written in Winter 2021. As of publication, my career situation has changed. I kept this post the same to help log the thoughts and uncertainty I had at the time. Will update career situation in future post.**
Thank you for reading. Subscribe to stay up to date.
---
Yes, I went to the office many days when I wasn't working. I was that humdrum. The pandemic level-upped my gratitude for office furniture and a quiet work space. Shout out to the friendly cafe staff also. Amazon was mostly remote work based in 2021.
Crypto didn't pique my interest in a way to lead me to dive in enthusiastically. E-commerce is an interesting area for continued evolution but I found myself only reading up casually. Twitch, while fun, doesn't have a sense of impact and fulfillment. Twitch DJ livestreams every sometimes here: https://www.twitch.tv/tk_dj
I networked with a folks in learning and development and career coaching, which helped guide my curiosity in the space. On the hobby side, I mustered up the courage to sit down at the old piano at my parent's house. Turns out it can be fun if you can get over the horrible sounds at first. I've since added piano to my music practice.
Shout out to friends and colleagues who helped bring M2M to life. You kept me inspired and I learned a ton. Thanks Hannah, Rubie, Joanna, Annie, Katina, Casey, Nora, Susie, Huaye, Cosmo, Allan, Richard.
Amazon is a phenomenal place to grow one's skills and careers. I'm incredibly grateful for all the learning, friendships, and experiences during my time there.
Thank you to those who shared their own stories, vulnerabilities, and thoughts with me. I'm grateful to have connected with people. Apologies I wasn't able to follow up with everyone.